Man cave ideas for your garage, bar, shed or basement. We explore man cave furniture and decor along with the best gifts for men and their mancave.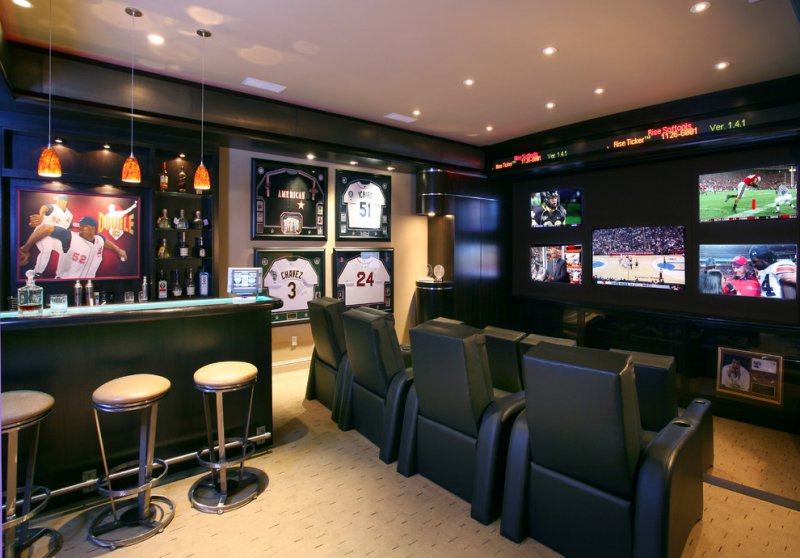 Are you looking for the ultimate in man cave ideas? Well, you have come to the right place. Man caves have become much more than just an old basement or garage. While interior designers may have made your home beautiful for entertaining guests, a mancave is really the perfect space for relaxing, gaming, and entertainment for the men of the house.
In this post, we will be exploring some of the best man cave ideas ever seen. Some of the best man caves are in basements, and we have some cool basement ideas for you, but we would not be doing you any favors if we only stopped there. So we will explore small man caves, garages, and even the newly emerging man cave shed.
Creativity is key when it comes to building your man sanctuary. You will need man cave ideas for the bar, seating, games, entertainment, and even decorating. That's why we have put together this huge list, filled with tips and tricks to make your friends jealous.
With a little effort, you can make a great getaway from just about any room. But as you will see some of our examples are a little over the top. Here are a few of the man cave ideas and topics we will cover:
Designs and Themes
Décor and Decorations
The Garage Man Cave
The Shed Man Cave
Diy Man Cave Ideas
The Bar
Games
We hope our man cave ideas inspire you to create a space where you can get away, relax and spend some much-needed time with the guys.
Here are some of the coolest man caves and man cave ideas from around the internet.
Starting off our cool man cave ideas, we have a secret entrance made from a framed jumbo poster.
Man Cave Designs and Themes
One of the first decisions you will have to make when you start thinking about your man cave ideas is if you would like to have a theme. Theming may be helpful as it gives a plan to go off of. While rules are meant to be broken (especially in a man cave) choosing a theme can be the difference between a second-rate garage and a top-of-the-line man room.
Now as you will see, some of these man cave ideas and themes are over the top, but many have an appeal to just about anyone you will be entertaining. Cool man caves may even need the help of an interior designer because as you will see very few men could come up with what we have in store for you.
This black, white, and red-themed room have beautiful black cabinets surrounding the fireplace and even a motorcycle hanging from the ceiling.
Sports Theme Ideas
Love the astroturf flooring and raised seating. See more man cave or basement carpet ideas here.
A sophisticated sports man's dream. Hung bats and jerseys make great man cave ideas.
Of course, what a man cave without a collection of weapons. Love for guns – that's what corresponds to a real man. However, the safety of your house and your loved ones should come first. Choose a reliable safe and location for it. If you are dealing with rifles, then you need to get by a large, durable, and fireproof safe and if you own just a small Glock you should go with a home handgun safe for pistols, as in the list of our friends from Wise Pick.
Classic Man Caves

This cave meets all the checkboxes for a classic fun cave. A bar with TVs, arcade games, and a comfortable man couch.
A relaxing man cave with an exposed brick accent wall for artwork and dart boards, large flat screen tv, and a brown sofa sectional.
Cool Man Cave Ideas
A sophisticated man cave design for the upscale and swanky man. The brown leather tufted couch looks like it belongs in a different era.
Old man cave ideas that look vintage will never go out of style.
Rustic Man Caves
Tin panel roofing and animal antlers chandeliers over the pool table.
Rustic stonework and exposed beams make this man room a high-end masterpiece. View More rustic basement ideas here.
Western Style
Beautiful woodwork and a saloon-style bar complete this look.
Man Cave Media Room Ideas
This elegant media room is sure to give some great movie room ideas for hardcore theater buffs.
Red leather theater seating for this one-of-a-kind home theater room.
This media room doubles as a golf simulator.
Spa Cave
Looking for some creative man cave ideas? Turn your spa into a man's only area. Think about adding a big screen tv or even a bar.
Mancave Office
A cheap man cave option is to simply convert your office space.
Man Cave Décor and Decorations
Once you decide on a theme, the decor you choose will really make a huge difference in the final product. Some of the best man caves have unique decor that will leave your friends jealous and wanting to come back again and again.
Here are a few man cave decor ideas you should consider:
Man Cave Sign Ideas
Some of our favorite man cave ideas are custom-made signs. As nothing says "man" like hanging that gem you found in a garage sale, craigslist or the classifieds. You can always take it one step further and order some personalized man cave signs from the man cave store.
A black and white man caves rules sign. Adding a sign with a set of rules is a great way to add some humor and fun to your man cave project!
Bar Signs
Bar signs are a must-have to create some classic nostalgia.
Wood Signs

Custom wooden signs enable you to say anything you want.

Find a sign with your name on it for a personalized touch.
Hand-made wooden signs make a great guy gift.
The original man cave sign hug as a warning.
Man Cave Garage
Here is where it all started. The man cave garage is the original place for guys to escape the house for some much-needed peace and quiet. If you don't have a lot of extra square footage in the house to convert into a custom man cave, consider a small upgrade to your garage. You may be surprised at what some paint, carpet, and decor can do to a garage man cave.
Some great man cave ideas for the garage conversion. Notice the painted walls, bar signs, and still enough room for tools and a motorcycle.
A modest garage man cave with a pool table, man cave bar, and flat screen tv hung on the wall.
Man Cave Shed
Looking for man cave ideas on a budget? Well then consider a shed for all your man entertainment needs. If using the existing floor plan of your house is not an option, you may consider these DIY man cave ideas. These can be built or purchased with supplies from a local hardware store and can range from mild to wild in the size and scope of your project. As you will also see, even old shipping container pods have been used to convert into a killer man cave.
Some spectacular small man cave ideas include sheds. Create your room using a shed with windows and even a nice glass door to make the room seem larger.
Many are looking for cheap man cave ideas. Here's an example of a larger shed placed in the backyard for ultimate privacy.
The shipping pod container man shed. This one was built by joining multiple pods together to make a huge room.
Man Cave Bar
The bar is the quintessential focal piece of your room. From liquor to beer, the bar becomes a conversation hub when entertaining. What better way to create an ultimate man cave than to splurge a little on your bar setup? Whether you choose to purchase a simple kegerator or go with a custom bar, below are some cool man cave bar ideas for any room.
This one-of-a-kind bar is built by incorporating an old wine barrel as a base for a sink.
A great gift idea for any friend or family who has their own man cave bar.
The combination of stonework and a solid wood top makes this bar unique and classy.
A clean and modern take on a man bar in the basement. The stark white bar stools against the dark wood give a sleek feeling. The basement paint colors here are neutral and match the rest of the decor.
High-end woodwork makes this man cave bar the ultimate in luxury.
Bar stools
Bar stools are one of the ways to make your space stand apart from your friends. While choosing cool-looking bar stools is a must, also consider comfort. There is nothing worst than having an awesome man room but seats that make your guest want to leave. Since the bar can become a gathering place for you and your friends we recommend spending a little extra to get exactly what you want.
Wine Cellar Ideas
Adding a wine cellar gives you some extra bragging rights, but also is a fun way to start your very own wine collection.
A wine cellar built out of simple pine wood.
A gray wine cellar with tile flooring for the sophisticated man.
Man Cave Furniture
Nothing says relaxing after a long day of work more than a comfy couch or a reclining sofa. A chair or couch may end up being the most used piece of equipment in your room, so choose wisely. Many men choose to use an older worn-out couch from inside the house, but here have some examples of the man cave and basement furniture that will turn your room into the perfect place to hang out!
Man Cave Chairs
Customizable Man Cave Chair

Check out these awesome leather NFL chairs that can be customized for any team. Perfect man cave furniture for the ultimate NFL Fan.

Man cave furniture for serious gamers and movie buffs.
Man Cave Couch
A must-have for those looking for great man cave furniture. These black recliners are a comfy addition to any basement, man cave, or media room.
Coffee Table

Double up on utility with this red coca cola cooler and coffee table combo. This cooler is perfect for a garage man cave if you don't have space for a refrigerator in your man space.
Man Cave Games
An essential component of any serious man cave is the ability to have fun. Nothing says fun like some old gaming favorites. Some of the best man cave ideas include pool tables, dartboards, shuffleboard, cornhole, putting green, and even bowling. While many game rooms have multiple ways to entertain guests, these games can take up quite a bit of room. We suggest installing games that will really be used a lot or you may be taking up precious real estate that will be hard to get back later.
This black felted pool table is perfect for a modern man cave. The movie post artwork is a nice vintage touch.
Dartboards are a staple of many man caves. This dartboard with wood trim and decorative molding is the perfect touch for a classy room.
A basement game room complete with a bowling alley may be the ultimate man cave feature.
Check Out Amazons Best Selling Pool Table and Table Tennis Combo.
The Gym
For some men working out is a way of relieving stress and a break from a fast-paced job. What better way to work out than in a home gym that makes you feel like a king? Adding a gym to your room is a great idea if you have the space, but an extra feature most caves have to go without.
Lamps and Lights and Candles
These next man cave ideas are things even the ladies will love. Lamps and lighting are some serious man cave essentials that guys seldom think about. But sometimes even a great guy's room needs a little tender love and care from a woman. These make great gift ideas for your man on his birthday or anniversary.
These lamps are some serious man cave must-haves.
These man candles make great anniversary gifts for men.
Man Cave Question and Answer
How much does a man cave cost?
The average cost of creating your own man cave is between $4,000 to $25,000 depending on your taste and budget. If you're wanting everything top of the line and do not want to get your hands dirty expect to pay even more.
What should be in my man cave?
Here is a list of our must-have man cave essentials. Large screen tv, theater seating, pool table, poker table, dart board, sound system, refrigerator, bar, bar stools, beer on tap, arcade games, sports memorabilia…
How can I make my man cave better?
Here are 3 ways to improve your man cave:

1. Moving theater seating against the wall so there is more room in the center of your man cave for activities

2. Make sure you are using lighting that can dim and create the right mood in your space

3. Splurge some on your surround sound system for music and sporting events
What's the purpose of a man cave?
A man cave is an essential space for men to wind down, have alone time, watch sports, play games, hang out with friends and enjoy their favorite hobbies.
Where Are Man Cave From?
Man caves rose to popularity in the 1970s as a response to the feminine movement of the era and the growing negative sentiment toward long-held establishments like gentlemen's clubs. The home man cave became an escape for many married men to have a room that was dedicated to fun, games, and relaxation.
What is a Man Cave Room?
In general, a man cave room is a designated room in a house, a garage, or even a shed where men can have a space of their own masculine space. The man cave room idea has risen in popularity over the years as a place where men engage in hobbies, games, drinking, and relaxing away for their wife and children.