Dark kitchen cabinets look absolutely stunning. From black, brown, expresso, mocha and grey. View our pictures of kitchen designs with dark cabinets.
This stunning and modern kitchen uses dark cabinets to maintain a sleek and funky style, but also to limit the 'industrial' feel brought by the stainless steel worktops, appliances, and high stools.
This kitchen intelligently creates different zones using blocks of white and dark cabinets at opposite ends of the kitchen.
Semi-matte cabinets like these provide some light reflection, but a lighter floor, walls, and metallic workspaces prevent the room from feeling too dark, but still use a sleek black color as the room's biggest feature.
All black cabinets can be cooling and dark. Liven it up with warmer and lighter features – such as this stunning and alternative red brick backsplash and large windows.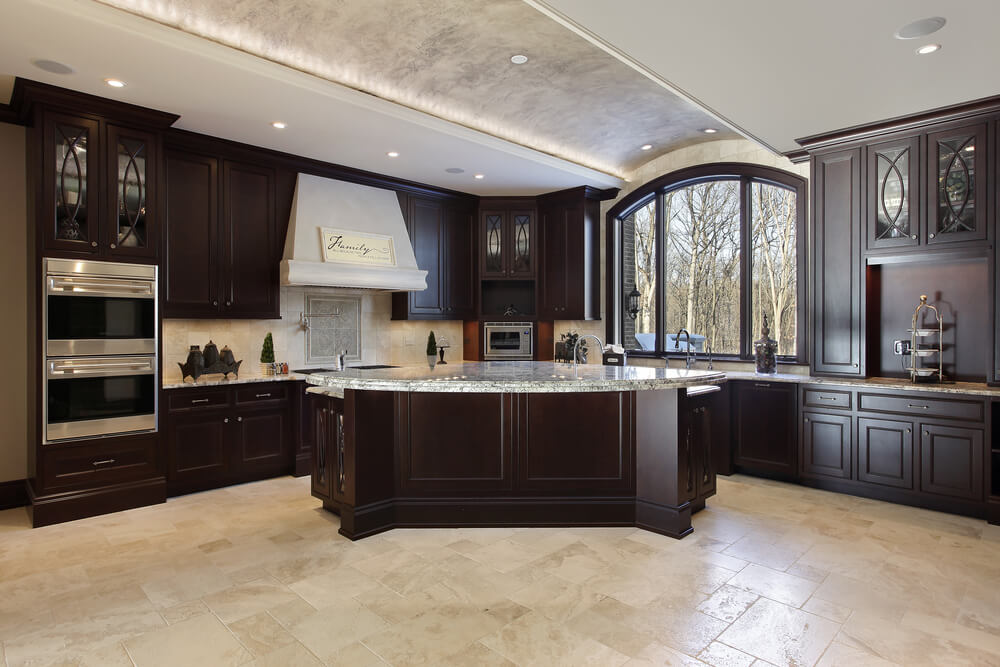 There is plenty of floor, wall, and ceiling space in this huge kitchen to add plenty of lightening and complementing cream to balance out these striking dark wooden cabinets.
The mix of materials in this kitchen, including different shades of wood, granite, and stainless steel, bring lots of variety and comfort to this kitchen, making it a great mix of traditional and modern styles.
A grey and glittering worktop bring sparkly and light to this kitchen bursting with black cabinetry.
These aren't the darkest of all kitchen cabinets, but the contrast with the very light and airy room creates a dramatic and intense style.